If you are a federal employee and you are disabled, injured, or no longer capable of performing your job, you may be eligible for US Office of Personnel Management (OPM) disability retirement benefits. There are specific requirements needed to qualify for OPM disability retirement. Our federal employment law attorneys explain what you need to know to determine if you are a federal employee with OPM disability retirement eligibility.
If you need help drafting an OPM disability retirement request, our federal OPM disability retirement attorneys are here to help you. Contact us online or call (800) 801-0598 today to schedule a consultation!
OPM Disability Retirement Qualification Requirements
To qualify for OPM disability retirement, federal employees must prove that they are unable to render useful and efficient service because of their disability or illness.
This involves producing medical documentation and undergoing evaluations to substantiate the claim. They will need to demonstrate that they can't perform their job in a current or vacant position at the same grade or pay level.
This stipulation is crucial to highlighting the severity of the disability and how it impedes one's ability to execute their professional obligations. A federal worker also needs to demonstrate that their disabling condition is expected to last at least one year. The purpose of this criteria is to ensure that only long-term or permanent disabilities are covered, excluding temporary conditions.
Federal employees can qualify for OPM disability retirement under both the Federal Employees Retirement System (FERS) and the Civil Service Retirement Service (CSRS). Keep in mind that these are two distinct systems. So while they share some similarities, they have their unique qualification criteria. Below are the requirements needed for both the FERS and the CSRS.
Federal Employees Retirement System (FERS) requirements:
18 months of creditable civilian service,
Must become disabled while serving in a position covered by FERS, and
Must apply for Social Security benefits and must submit the proof in OPM application.
Civil Service Retirement Service (CSRS) requirements:
Five years of creditable civilian service
Must become disabled while serving in a position covered by CSRS, and
Must apply for Social Security benefits and must submit the proof in OPM application.
These altered requirements reflect the different nature and structure of CSRS compared to FERS.
Understanding the Difference Between Occupational and Total Disability
Social security disability and most other disability programs require total disability. This means that the applicant must be totally unable to perform meaningful work. On the other hand, OPM federal disability requires that a worker only have an occupational disability. This means that workers don't need to be totally disabled from working to obtain OPM disability retirement. They only need to demonstrate that they are disabled from performing at least one essential function from their position.
Can a Federal Employee Have Disability Retirement Eligibility If Their Disabling Condition Was Pre-Existing?
The short answer is yes. OPM does not assess the cause of your disabling condition. Therefore, it does not matter whether the disabling condition pre-dated your federal employment. Nor does it matter if you suffered the injury at work. The critical inquiry is whether the condition prevents you from performing your job duties.
What Is OPM Disability Retirement?
OPM disability retirement is an employee benefit to help those who are unable to complete a normal career due to an illness or disability.
This program is different from other forms of disability compensation, such as that provided by the Social Security Administration or the Department of Veterans Affairs.
You should consider applying for disability retirement only after you have provided your federal employee with complete documentation of your medical condition, and they have exhausted all reasonable accommodations available to make your work manageable.
Is It Hard to Get Federal Disability Retirement?
Acquiring federal disability retirement (FDR) can often be challenging, but it's not impossible. The level of difficulty often depends on the specific circumstances of the applicant and the nature of their disability.
Here are some of the challenges faced by applicants which can make the process seem difficult:
Documentation requirements. To receive federal disability retirement, you must provide extensive medical documentation demonstrating how your medical condition affects your ability to perform your job duties. Obtaining thorough reports and medical opinions can be time-consuming.
Complexity of the application. The application process is multifaceted and requires careful attention to detail. Any oversight or missing information can result in delays or denial.
Overlap with other benefits. If you're a FERS employee, your federal disability retirement integrates with Social Security disability benefits. Consequently, you must apply for Social Security Disability and provide proof of that application, which can complicate matters.
Denials and appeals. OPM denies a significant percentage of initial disability retirement applications. While this can be disheartening, many denials are overturned on appeal, mainly when represented by knowledgeable attorneys.
Limited knowledge. Many federal employees are not fully aware of the nuances of federal disability, which can lead to application errors. Moreover, HR departments are also not up-to-date on the specifics of OPM disability retirement, which leads to incorrect or misleading guidance.
Subjectivity. Some medical conditions can be somewhat subjective, especially mental and emotional disorders. Proving that such conditions are debilitating enough to warrant federal disability retirement can be more challenging than proving the severity of physical ailments.
Legal hurdles. Applying for federal disability retirement involves other legal issues, such as reasonable accommodation and reassignment. If your employing agency can reassign you to another position at the same pay grade you are qualified for and can perform despite your medical condition, your federal disability application retirement may not prevail.
Despite these challenges, countless federal employees successfully obtain federal disability retirement every year. Proper legal guidance, thorough documentation, and perseverance are essential.
[DOWNLOAD] OPM Disability Retirement for Federal Employees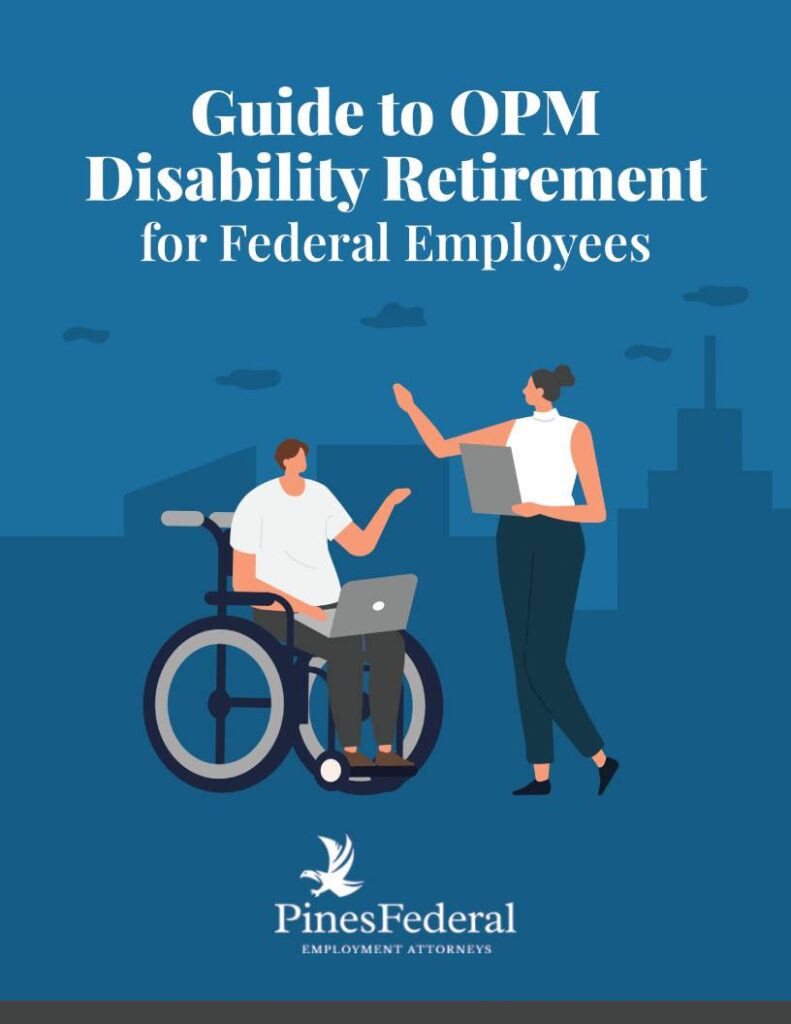 What Conditions Qualify for Federal Disability Retirement?
OPM disability retirement does not have a strict list of specific medical conditions that qualify individuals for benefits. Instead, the focus is on how a medical condition affects an individual's ability to perform the essential duties of their federal position. Many conditions (including physical and psychiatric) have historically been recognized as grounds for OPM disability retirement when those medical conditions significantly impair job performance.
These include the following:
Degenerative scoliosis,
Cardiovascular diseases,
Schizophrenia,
Cancer,
Bipolar disorder,
Chronic obstructive pulmonary disease,
Asthma,
Depression,
Generalized anxiety disorder,
Parkinson's disease,
Epilepsy,
Lupus,
Post-traumatic stress disorder,
Crohn's Disease,
Cirrhosis, and
Diabetes.
It is also possible to obtain OPM disability retirement because of multiple conditions that collectively make you unable to perform your essential job duties. Ultimately, the key to a successful FDR claim is demonstrating the nexus between the medical condition and job performance. Consequently, thorough medical documentation is crucial. This includes physician's reports, medical test results, and detailed accounts of how the condition affects daily living and job performance. Letters or statements from your coworkers or supervisors attesting to the changes in your performance can also be beneficial.
What If I've Received a Separation from Federal Service?
To qualify for OPM disability, you must submit your application for disability retirement to OPM within one year after the date of your separation.
If your separation is longer than 31 days, your former federal employer may no longer have access to your personnel records and, therefore, might not be able to recover them in time to process your disability retirement application and submit it to the OPM within the year limit.
For such reason, we advise that you submit your OPM disability request directly to OPM instead of submitting it with your employer.
Seek Legal Guidance with Your OPM Case
Drafting a disability application can be complex, and a simple mistake can affect your case's outcome. Our team at Pines Federal can work with you to gather the various components of your disability application to ensure that you meet all the requirements.
We know how to draft your request to your employer and address and objections if they claim it would cause undue hardship on the employer. We can provide you with the best possible chance of having your application approved, thus avoiding delays in compensation. We've been helping federal employees for over 50 years, and we are ready to help you too.
Contact our OPM disability retirement attorneys by calling (800) 801-0598 or filling out our online form today.