Federal OPM Disability Retirement Attorneys Serving Clients Nationwide
The Office of Personnel Management (OPM) manages the civilian employees of the United States government. They oversee the health insurance, retirement accounts, and recruitment for a massive workforce of over 2 million people.
When an organization handles the affairs of so many people, customer service can be a challenge or sometimes fall through the cracks.
Simple tasks like filing a request can be both difficult and overwhelming when you're unfamiliar with OPM system requirements. The OPM retirement lawyers at Pines Federal only work with federal employees, so we have many years of experience navigating the unique challenges of working with a large bureaucratic agency like OPM.
If you are in jeopardy of losing your retirement or disability rights, we may be able to help you. Are you trying to qualify for federal retirement or disability benefits, but you've left your government job? You may still be entitled to OPM Disability Retirement benefits.
For more information and to have your cases reviewed by our team, reach out to our Federal OPM Disability Retirement Lawyers at (800) 801-0598 to schedule a consultation.
"I would like to take a moment to remember a friend and colleague, Mr. Robert R. McGill of https://federaldisabilitylawyer.com. Mr. McGill was a pioneer in the field of attorneys representing OPM Disability Retirement applications."

Read more: In memoriam of Robert R. Mcgill
Who is Eligible for OPM Disability Retirement?
One of OPM's essential functions is establishing who is eligible for disability retirement. You need to meet several criteria to be eligible for federal disability retirement benefits.
Requirement #1 Meet Eligible Service Requirements
As any good OPM disability retirement lawyer can tell you, all federal employees are eligible for disability benefits under the Federal Employees Retirement System (FERS) or the Civil Service Retirement Service (CSRS) once they have accumulated 18 months of service for FERS or 5 years under CSRS.
All disability retirement applications must be approved by the Office of Personnel Management (OPM). Only those federal employees who were hired before 1987 are under the CSRS, though they may switch to the FERS.
Requirement #2: Meet Disability Requirements
The next requirement for OPM disability retirement is that you need to be considered disabled due to disease or injury.
Unlike Social Security Disability, you do not need to be totally disabled from working to receive OPM Disability Retirement. Your disability need only make you unable to perform one or more of the core duties of your position of record.
You do not need to be prevented from all essential duties of your position. In fact, if a physician determines you are disabled from performing at least one essential function of your position of record with the federal government, then you likely qualify.
However, your disability must last—or be expected to last—at least one year. It is also acceptable if your disease has an unclear or indefinite end date. Shorter-term injuries and illnesses will not qualify you for disability.
Further, your disability need not have resulted from a job-related injury or disease. Our federal employment attorneys can evaluate the specifics of your case and recommend the best way to proceed.
Requirement #3: Agency Accommodation Efforts Must Fail
In many cases, federal employees request reasonable accommodation after suffering a critical illness or injury.
Part of the process requires the agency to find a reasonable accommodation to allow you to do your job with your disability. If no such accommodation exists, the agency must look for an identical or similar position that you can perform with your disability.
To qualify for disability with OPM, your agency must certify that it cannot accommodate your disability in your position of record and cannot transfer you to a similar position. This is a tricky step, and a qualified OPM disability lawyer will help your efforts here significantly.
Other Requirements
Once your agency separates you, there are still two steps you need to meet to qualify for disability retirement. In fact, there's a strict time limit for applying for disability retirement after you receive your separation from federal service.
Specifically, you need to apply for federal disability retirement benefits within one year of your separation from the federal government. If you wait beyond this time period, you could permanently lose your right to receive federal disability.
Finally, you also need to apply for Social Security Disability Insurance (SSDI). Fortunately, the outcome of your SSDI application does not control whether OPM accepts your federal disability retirement application. To learn more about how to time your disability applications, contact a knowledgeable OPM disability retirement lawyer.
How Much Money Will I Receive on Federal Disability Retirement?
As you prepare your application with an experienced OPM attorney, you may be wondering what kind of income you will receive from federal disability benefits.
Fortunately, you can calculate the amount of your disability benefits. The OPM formula for determining your disability retirement uses several factors.
The first factor is your age. The second factor is the years you have been in the federal government.
If you are more than 62 years old, your retirement benefits will be one percent of your average salary during the three years you were paid the most. In government lingo, this amount is called the "high-three" salary. Once you have your "high-three" salary, multiply that number by your years and months of service.
This can get complicated, so let's use an example to understand the formula more. Imagine your "high-three" salary is $150,000, and you have 15 years of service in the federal government.
One percent of $150,000 equals $1,500. $1,500 times 15 (for your 15 years of service in the federal government) is $22,500. So you would receive $22,500 a year in disability retirement benefits.
This formula changes a bit if you are more than 62 years old and you have more than 20 years of service in the government.
If you meet those requirements, you multiply your years of service by 1.1% of your high-three salary (rather than 1.0%). For example, if your high-three salary was $200,000 and you served in the government for 30 years, your annual annuity would be $66,000.
To learn more about what you will receive if you are under 62 years old, call an OPM disability attorney at Pines Federal today.
A Law Firm You Can Count On
We have helped federal employees get approved with a ~99.99% approval rate.
What Does the OPM Consider Proof of a Disability?
Having a disability, whether mental or physical, is a deeply personal matter. With few exceptions, federal government job applicants and employees are not required to disclose their disabilities. Section 503 of the Rehabilitation Act requires federal contractor employers only to invite their job applicants and employees to disclose, voluntarily, their disability status.
If you are living with a disability and feel that your employer has no need to know, then you can rest reasonably assured that you won't have to disclose your disability. If you wish to have a non-competitive hiring process or require certain kinds of accommodation, you will need to file proof of your disability.
According to the Office of Personnel Management (OPM), the following are acceptable forms of proof for a disability:
Statements or letters on a physician's/medical professional's letterhead stationery.
Statements, records, or letters from a federal government agency that issues or provides disability benefits.
Statements, records, or letters from a state vocational rehabilitation agency counselor.
Certification from a private vocational rehabilitation or other counselor that issues or provides disability benefits.
With an OPM disability retirement lawyer, it will be much easier to navigate potentially tricky communication issues with your employer and safeguard your privacy.
[DOWNLOAD] OPM Disability Retirement for Federal Employees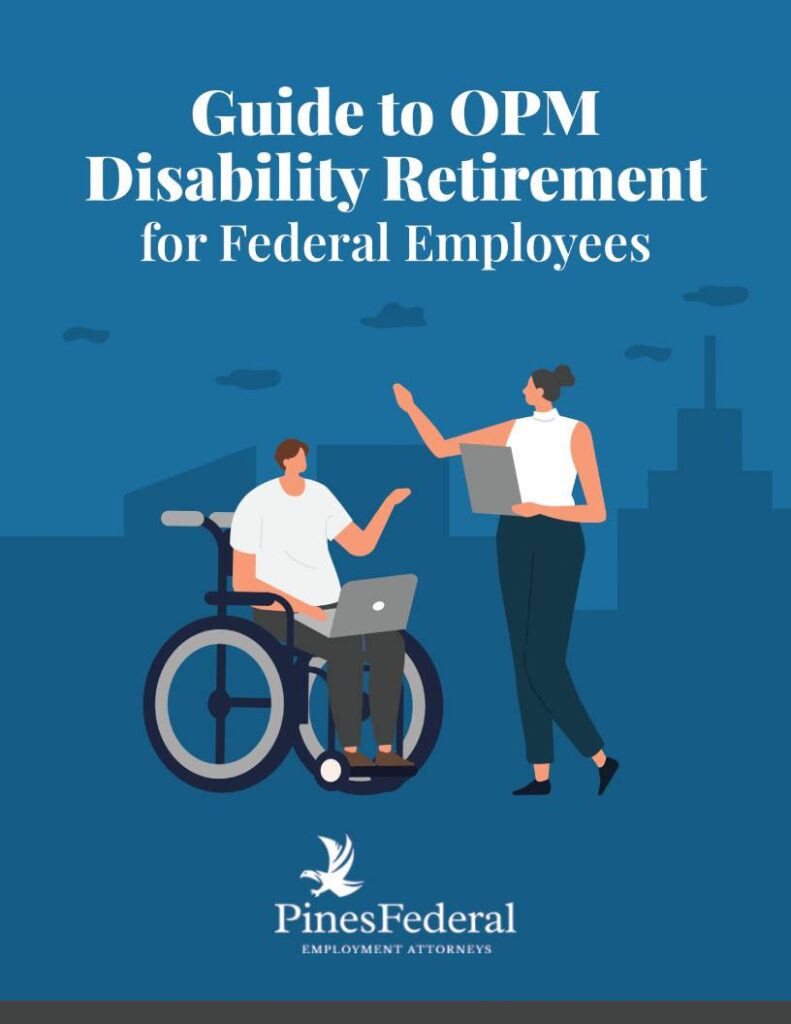 Can You Continue to Work and Receive Benefits?
Another distinguishing characteristic of OPM Disability Retirement is that you can continue to work even while your application is pending or while receiving benefits. This is true even if you are placed on light duty.
At Pines Federal , the OPM disability retirement attorney who takes on your case will make you aware of these details and more as you consult with us and we guide you through your claim.
Certain special circumstances require the benefit of our more than 60 years of collective experience, including:
Drafting reports on mental, medical, or other disabling conditions that may prevent you from performing an essential part of your job.
Knowing how to deal with or address preexisting conditions.
Keeping you eligible for performing work tasks unrelated to your current position of record.
Moving you toward a federal disability retirement annuity that can pay you a portion of your salary for the remaining years of your working life up to age 62.
Preparing doctor's letters correctly and submitting according to federal employment law.
Providing you with the best possible chance of having your application approved, thus avoiding delays in compensation.
We work closely with you to draft the various components of your disability application, making sure you meet all application requirements. In addition, we know how to draft your request to your employer and address any objections if they claim that it would cause an undue hardship on the employer.
Contact Us. We Have Handled OPM Disability Cases For Over 60 Years
Our federal employment attorneys have decades of experience dealing with OPM Disability Retirement cases. Our goal is to help you obtain approval of your claim at the initial application stage so you can avoid the stress of filing time-consuming appeals.
Rest assured, however, that if you are denied at the initial stage for any reason, we are well equipped to assist you with the reconsideration appeal (with the OPM) and/or the appeals with the Merit Systems Protection Board (MSPB). Fill out the application form below, or call us today for a case evaluation of your OPM Disability Retirement case.
Contact us online or call us at (800) 801-0598 to request a consultation with our skilled federal employment attorneys today. We serve clients nationwide.
Read Reviews From Our Clients
Recommended Reading: