OPM Disability Retirement Basics
There are four types of retirement for federal employees: early, voluntary, deferred, and disability. If you are a civilian employee of the federal government, your retirement benefits are provided by either the Federal Employees Retirement System (FERS) or the Civil Service Retirement Service (CSRS).* Regardless of which office provides your disability benefits, the Office of Personnel Management (OPM) must approve all disability retirement applications.
In this blog post, our OPM disability lawyers will be looking specifically at federal disability retirement and the issues associated with a rejection of your application by OPM. Please don't hesitate to contact us online or call 800-801-0598 today for a consultation.
*Note: CSRS provides benefits for federal employees who were hired before 1987
Understanding the Laws Surrounding Federal Disability Retirement
Disability retirement is simply one facet of the government's struggle to treat people with disabilities equitably. These efforts have a long history. In 1973, the government passed the Rehabilitation Act, the first major civil rights legislation aimed at people with disabilities. This Act required federal workplaces to improve their treatment of persons with disabilities.
One key provision mandated that government employers abstain from any discrimination against employees based on their disabilities. Subsequent government efforts built on the foundations of equality established by the Rehabilitation Act.
These efforts include the Equal Employment Opportunity Commission's (EEOC) Management Directive 715 and Executive Order 13548, the latter of which aimed to increase the number of people with disabilities working in the federal government.
Finally, Congress passed the Americans with Disabilities Act of 1990, which incorporated the protections first provided to federal employees in the Rehabilitation Act of 1973 and extended them to all aspects of the private sector.
Despite these efforts, the federal government still has a long way to go when it comes to individuals with disabilities. A 2018 report by the RAND corporation found that the government could take several additional steps to create better employment outcomes for employees with certain kinds of disabilities, especially those with vision and hearing deficits, epilepsy, and significant mobility issues.
Applying for OPM Disability Retirement
According to OPM, you should consider applying for disability retirement when you have already provided your employing agency with full documentation of your medical condition and your agency has thoroughly explored all reasonable options to retain you in a productive capacity, including accommodations and reassignment. If you are in this situation, disability retirement may be a good option.
Before submitting your application, you should review OPM's following eligibility criteria:
You have completed 18 months of Federal civilian service, creditable under FERS.
While employed in a qualifying position under the retirement system, you have become disabled (due to injury or disease) for useful and efficient service in your current job.
The disability is expected to impact you for at least one year.
Your employing agency must certify that it cannot accommodate your disability in your current position and that you have been considered for any existing vacant positions within the same agency, at the same grade or pay level, in the same commuting area, and for which you are qualified.
If you meet these criteria, OPM also specifies that you (or your guardian or representative) must apply before your separation from service or within a year thereafter, and either OPM or your employing agency must receive the application within a year of your separation date.* You are also required to apply for social security disability benefits, and if this application for social security benefits is withdrawn, OPM will dismiss your disability retirement application.
*Note: the time limit for applying to OPM may be waived in cases where the disabled individual was mentally incompetent on the date of separation or within one year of that date.
If you meet the requirements and plan to apply for disability retirement, you must complete forms SF 3107, Application for Immediate Retirement, and SF 3112, Documentation in Support of Disability Retirement. Additionally, if you are under the age of 62, you will also need to provide documentation of your social security disability benefits application.
[DOWNLOAD] OPM Disability Retirement for Federal Employees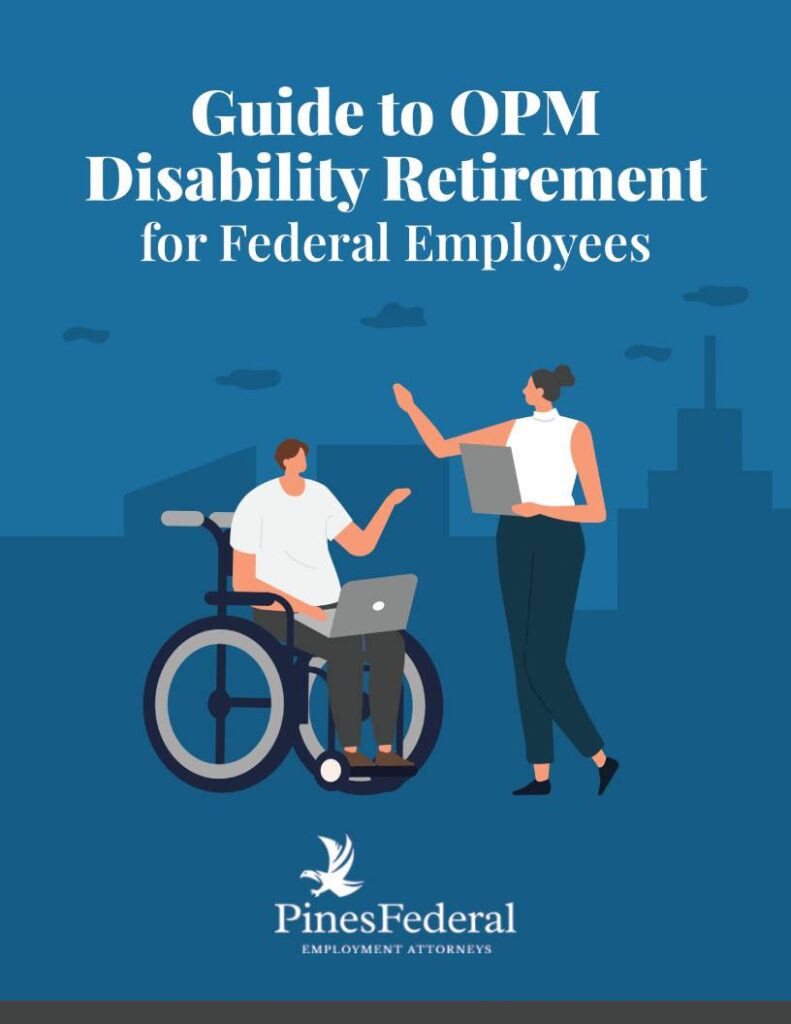 What Is the OPM Disability Retirement Approval Rate?
Although the exact OPM disability approval rate isn't published, we know that a significant number of disability retirement applications are denied every year.
Not all of these are because of the applicant's fault. Bureaucratic mishaps and incompetent agency administrators can contribute to the problem. Our firm is proud to have helped federal employees get approved with a ~99.9% approval rate.
Will My Benefits Ever Terminate?
There are a few circumstances under which OPM will terminate your disability retirement benefits. Generally speaking, these circumstances only apply to those under 60 years old.
For example, benefits may be terminated if you are medically recovered from your disability, if your income from wages or self-employment is at least 80% of the current base pay from your retired position, or if you are reemployed in Federal service in an equivalent position to that which you retired from.
One of the biggest problems federal employees face regarding the disability retirement process is a rejection of their initial application. Below we review what to do if you find yourself in this position.
The OPM Disability Retirement Appeals Process
As you can see, applying for federal disability under the Federal Employee Retirement System (FERS) is not an easy task.
First, you need to collect and complete seemingly endless FERS disability retirement forms. Then you need to submit these forms with all proper documentation within the applicable deadlines. After that, you have to wait for the decision from the Office of Personnel Management.
OPM is a large organization and is responsible for over two million employees. Consequently, mistakes are made.
Additionally, it is not uncommon for a doctor or other medical professional to make mistakes when documenting your medical condition, such as incorrect dates or an inaccurate description of how your condition progressed. When mistakes are made, people who should be granted disability retirement benefits are rejected.
If OPM denies your disability retirement application, it can feel like your financial stability and future, in general, are threatened. When you have spent so much of your time and energy, it is often devastating to receive the news that denied your disability application.
However, if you applied for disability retirement and were denied, you may have the option to appeal OPM's decision. In fact, there are several routes you may take after receiving an application denial from OPM.
Featured Case Result
WHAT HAPPENED: The client was facing complete cessation of OPM disability benefits. We successfully argued before OPM that the client should keep benefits based on the creative use of business deduction expenses.
What to Do If Your OPM Disability Retirement Application Was Denied
There are three key steps to follow to maximize your OPM disability retirement appeal approval rate.
Find Out What Went Wrong
The first step in successfully appealing your denial is understanding why OPM denied your application in the first place.
Review your denial letter carefully. Did OPM deny your application because they lacked sufficient information from you? Did your agency fail to provide OPM required information? Was part of your application damaged or lost?
The problem may also lie in the medical paperwork your providers submitted. Unclear, vague, or poorly-written medical statements often contribute to a denial from OPM.
In early 2020, OPM released a report documenting common application problems.
Five of the most common problems were:
Incorrect last date of pay (LDOP) information;
Miscalculated disability commencement dates;
Mismatched health records;
Missing accommodation or reassignment documentation; and
Agency failure to send official personal folders on time.
Perhaps your application failed because it suffered from one of these issues. Or perhaps your application received a denial because of illegal discrimination by your agency or OPM. Whatever the cause of the denial, understanding how OPM came to its decision will help you define your appeal strategy.
Understand Your Appeal Rights
Every person with a denied OPM Disability application can request reconsideration and an evidence review. Appeals are another option.
Specifically, you can choose to appeal your denial to the Merit Systems Protection Board (MSPB). If you opt for that route, you will receive a hearing to present your case. If successful, the MSPB will order OPM to reverse its denial and grant your disability application.
Whatever your choice, you need to act quickly. Appeals typically must be filed within 30 days of receiving the OPM's decision. If you wait past that time to act, your application denial will probably become final.
Seek Legal Help
The OPM disability application process is complicated. And if you request reconsideration or an MSPB appeal, having talented legal counsel is vital.
Consulting with an attorney can help you better prepare for the appeals process. Your lawyer can also help ensure that you have all the appropriate paperwork and that it is filed correctly and on time.
Additionally, an experienced federal employment attorney can help you petition your agency for information, interface with health providers for updated medical documentation, and argue your case before the MSPB.
Was Your OPM Disability Retirement Application Denied? Let Us Help You Today
While you are not required to have an attorney to file an appeal with the MSPB, it is highly recommended that you do. If OPM denied your retirement application, then you are in a precarious situation.
Having a competent federal employment attorney on your side may be all that stands between you and an uncertain financial future. Do not take that risk. Seek legal counsel right away.
At Pines Federal, we have helped many federal employees deal with OPM disability retirement rejections, and we can help you file your appeal. Our firm is passionate about giving federal employees a strong financial future.
In addition, our team of attorneys all share a passion for helping federal employees and providing outstanding customer service. On top of that, they have successfully represented countless federal employees in disability retirement appeals. We are ready to stand by you and do whatever we can to make your appeal succeed.
To schedule a consultation with one of our federal employment law attorneys, reach out to us at (800) 801-0598 or send us a message online. Let us help you get the disability retirement you deserve.